Title: THE RIDE to OCACOKE ISLAND
Description: getting there is most of the fun
obxbiker - May 5, 2006 08:54 PM (GMT)
THE RIDE TO OCACOKE ISLAND, getting there is most of the fun

This a ride I've been on dozen's of times and plan to do a dozen more.
If your ever in the Mid-Alantic East Coast Area, specificly North Carolina this is a must ride.

The Destination



as you can see from the map,no GPS is necessary as the their is only one road and that's going south, with fantastic ocean and sound views most of the way. Even from where I live I usually make this an overniter and camp at the national seashore camp grounds on the island. [it's about 5 min. out of the "town"]. RESERVATIONS A MUST !!



You do have to ride a ferry for the last 40 min, from Hatteras Island but would not have it any other way. It's part of the "fun" of the journey. Now by car it can be a real pain as the lines to get on the ferry's can go for miles.BUT ON a bike they wave you to the front of the line and on the next ferry then put you immediatly on the back.[which can be the front depending on which end of the ferry docked.] The looks on the tourist faces with their BIG RV's is priceless.

(THE NORTHERN FERRY )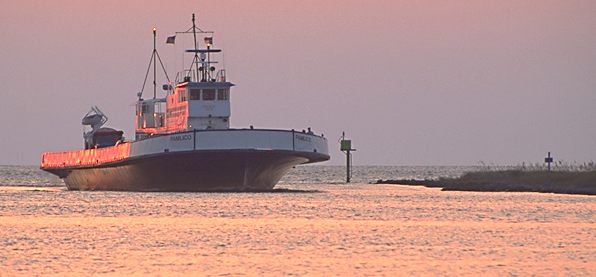 (THE SOUTHERN FERRY)



What's on the island ? NOT MUCH.
No Mega Shopping Malls [just a few mom & pop stores]
No Big Grocery stores [again just a few mom &pop stores]

What is on the island ? A LOT !!!
The Natural Beauty of Ocracoke

The sign on Howard Street says it all.



You won't find amusement rides or glitsy touristy entertainment here. Come prepared to make your own fun. Gift and novelty shops will fulfill the urge to bring home a souvenier, but not one "chain store" or "franchise" food establishment exists here. Everything is "mom and pop", locally owned and operated. There simply isn't much other way to make a living here, except perhaps for the local fishermen who still supplement their income harvesting from the waters. But that's the way it's always been for the "Ocracokers". Their independence and self-sufficient spirit has always been their mainstay.In fact their is still a launguage spoken here by the "old timers" that is based on "old english" which at times can be very hard for "outsiders" to understand.

The island of Ocracoke sits between Hatteras Inlet, which separates it from Hatteras Island, and Ocracoke Inlet, which separates it from Core Banks. It can be reached only by small airplane, private boat, or by ferry.

The island is part of the Cape Hatteras National Seashore, with only one town, also called Ocracoke. The village is focused around the scenic little harbor of Silver Lake. Here you will find the Coast Guard Station, and ferry docks for the Cedar Island and Swan Quarter ferrys which connect the south end of the island to the mainland. The Hatteras ferry dock is on the north end of the island, and connects it to Hatteras Island and the rest of the Outer Banks north.

Ocracoke is the end of the line when driving south on the Outer Banks. From here you either head inland with your car on the Cedar Island or Swan Quarter ferry, or turn back north. But once you get to Ocracoke you realize "the end of the line" is actually more like the pot of gold at the end of the rainbow. Perhaps too many people have found this out, for in the summer this small village swells beyond its comfort zone. But in the fall it returns to its quiet small town feel, and keeps that peaceful, almost meditative state of being through spring.

The "off-season" visitors have found out the secret of enjoying the true appeal of Ocracoke. In fact, it is a recorded historical fact that Ocracoke has been a popular fall vacation spot for over two hundred years. Even though tourists come practically year round, the off-season is far less crowded, and let's the real atmosphere of Ocracoke come through.

THE BEACHES
Ocracoke's beaches are wide and unspoiled by development of any kind. There are absolutely no homes, condos, motels or anything else along these beaches to keep you from enjoying the natural beauty they offer. Whether fishing, watching the birds, shell hunting or just enjoying the sun and breezes, Ocracoke beaches are unsurpassed.
One thing that will never change on Ocracoke, no matter how much time passes, is the natural splendor of early mornings and sunrises on the beach. Why the sunrises seem more glorious on Ocracoke than other places is one of those mysteries you can't explain. Maybe it's that magic of Ocracoke working, or the peaceful state of mind this place seems to bring about. Whatever the reason, it's certainly worth the trip just for the view.

...
...
...


thats the road on the left...





to be continued.........
obxbiker - May 5, 2006 10:05 PM (GMT)
THE LIGHT HOUSE
Ocracoke Lighthouse was built more than a century after Blackbeard's demise. Yet it is as inseparable from Ocracoke as Blackbeard's legend. And even though Blackbeard came first, Ocracoke Lighthouse is, without a doubt, the de facto symbol of Ocracoke. It's the first thing you spot when arriving on the Cedar Island or Swan Quarter ferry, and the last thing you see from those ferrys when leaving [going south].

The first light was built on the island, in 1803. Fifteen years later it was destroyed by lightning, replaced in 1823 by the current tower. The original fourth-order lens was destroyed during the Civil War, but a new lens installed in 1864 remains today.

The lighthouse seems to be the one steady presence across time that makes things feel the same on Ocracoke, even as things change ever so slowly all around it.

...
...
...


COAST GUARD STATION
The historic U.S. Coast Guard Station at the ferry docks is one building that's hard to miss on Ocracoke. It was built in 1904 and is still in operation a century later. Its white paint and distinctive red roof make a handsome site next to the harbor entrance.

..............................


THE BRITISH CEMMETARY
The British Cemetery is another historic site that visitors come to see. This is where four crewmen from the HMC Bedfordshire were laid to rest by the residents of Ocracoke in 1942 after their ship was torpedoed by a German U-boat. The quaint cemetery site was simple and dignified back in 1973. But like some of the village, it's gotten more cluttered over the years. Back in '73 you could park and visit the site. Now there is no parking, so if you visit here you have to ride a bike or walk.

............................







to be continued.........

Chuck - May 6, 2006 01:41 AM (GMT)
SIGN ME UP! I don't think I'd ever leave! Gorgeous scenery!
obxbiker - May 6, 2006 04:49 PM (GMT)
Silver Lake, the lighthouse is in the bottom left corner, the ferry to go south is in the top right. This is the only privately owned land as the rest of the island is part of the National Park Service.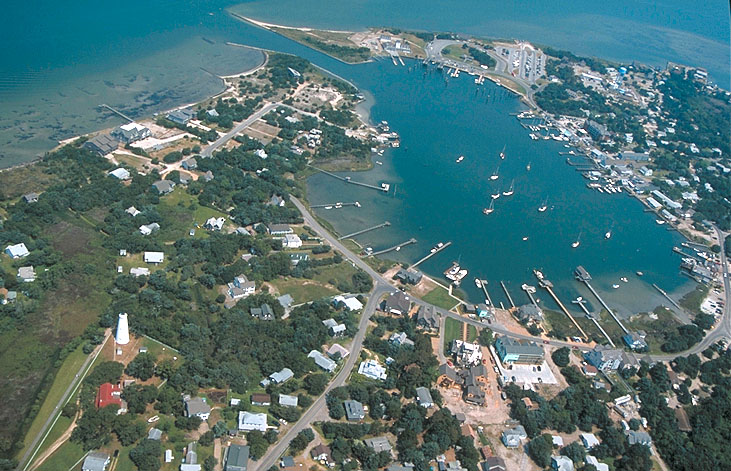 Wild Ponies, thought to have come from Spanish shipwreaks long before the first English settlers came as they were already here.

..
Watersports
..
..


to be continued...

obxbiker - May 6, 2006 05:22 PM (GMT)
The Wildlife...
..
..
..
obxbiker - May 6, 2006 05:34 PM (GMT)
Luxurious accomadations...
Actually there are some modern hotels/motels and Bed & Breakfast's here. But in season you must have reservations a long time in advance.
The Locals
obxbiker - May 6, 2006 06:20 PM (GMT)
HIGH RESOLUTION NASA SATILLITE PHOTO's
From these photo's you can see how fragile the banX's are.There has not been a "MAJOR" hurricane here since the 1950's.

The "big" island at the bottom is Roanoke Island where the first English tried to settle. This attempt is known to history as "THE LOST COLONY" .



This photo continues south and at the bottom where the BanX's make a left turn is where the Gulf Steam heading north meets the Atlantic current heading south. This the area know as "The Graveyard Of The Atlantic". At the point is Hatteras Island. The "outlit"[not inlet as the flow of water shows] on the left is where the free ferry to Ocacoke Island is.



The last photo shows the BanX's all the way to the southern Core BanX's.
At the top right is the end of Ocacoke Island . All the islands south of here until you get down to Moorehead City are uninhabited,no roads but can be accessable by privite charter. On the far left bottom you can see the airfield for Cherry Point Marine Corps base. My son was stationed here for 4 years. A visit by the mainland would take about 3 hours.Going by way of the BanX's would take 5+ hours due to the slower riding speeds, [small towns to go through] and the 2 ferry rides but this was the way I would usually go.

Murs - May 7, 2006 04:13 PM (GMT)
THAT looks like a GREAT ride!!! You are so lucky!
obxbiker - May 9, 2006 08:45 AM (GMT)
A Boat Without a Name

Winning 'Newspaper In Education' feature

Date published: 5/9/2006


It was a bright and sunny day when I opened my bedroom window, only to find everything the same: the same sea-blown grass on the ground and the untouched sand everywhere.

I was finding myself constantly searching for change lately. Not just in scenery, but in myself. What with me getting older, I was surely beginning to change.

Living on an island where--except for my neighbors, who came only on vacation--I never really saw anyone else. Ocracoke was its name, a small island reached only by ferry.

The nearest form of true civilization was Cape Hatteras. It was basically a long, thin strip of land connected to Kill Devil Hills, North Carolina that stretched far into the Atlantic Ocean about 150 miles or so. But Ocracoke itself was a mere island.

Life during winter on Ocracoke was always my favorite time of year. Although my home-schooling began, I still had time for fun. With the cold, loud spray of the oceans waves crashing on the worn beach, it was like a welcoming card for me and all other avid sailors. With the strong, winter wind from the northeast, it was perfect for sailing.

My boat was a 22-foot-long cruiser with a mast, boom, tiller and rudder made of laminated spruce. She was old, but hardly showed her age. Her hull was made of fiberglass painted white as well as the cabin. The cabin was small, but no space was put to waste. Every nook and cranny was loaded. Whether it was a cabinet or a sail bag, it was loaded.

I pulled the halyard to raise the main sail, after that I hooked the jib sail onto the pulpit and raised the halyard to raise it. Both caught the wind almost instantaneously. The hull glided across the water and the jib sail slapped the mast, all in one rhythmic motion.

She sailed out of the dock and out into the ocean. And after about an hour, in all of this peacefulness, out in the distance, I saw what looked like a spray of mist. After gazing upon it for several minutes, I knew it was a wind storm, and it was coming straight for me!

I ran to the mast, and pulled the halyard as fast as I could, desperately trying to pull it down. The storm was coming fast, too fast, and then the wind hit the sail like a brick. In a split second, with no time to react, no time to think, she flipped over.

I hadn't realized it until the cold sting of the water pierced my skin. Somehow, I made it to the surface, looking all over for anything. Anything to hold on to, but all there seemed to be was the overturned boat--center board sticking straight in the air.

I climbed on top of the boat, slipping off it several times until I finally made it to the top and rested my back against the center board and just sat there, sat thinking, daydreaming.

With the cold water on my skin, soaking clothes, five miles from shore, and an overturned boat, and just sat there thinking of all things. Of all things to do, and I sat there thinking. Then, after what seemed like hours, it hit me.

I remembered hearing my grandfather once tell me a boat with no name was bad luck. Then I knew why this all happened, I took no precautions. In superstition, and common sense, like checking the weather, or heeding my grandfather's words of wisdom, none of which I even attempted.

When I realized all of this, I felt so stupid. I had never felt so stupid and ignorant in my whole life. And at that moment, I understood what my grandfather's words really meant, and finally knew how it feels to be a boat with no name.

--Michael Letts Culpeper County High School Grade 9
obxbiker - June 10, 2006 09:35 PM (GMT)
Ocracoke one of nation's best beaches
Ocracoke Island

(OCRACOKE ISLAND) - Ocracoke Island came in at No. 3 on the list of top ten beaches in the country.

An annual survey by researcher Stephen Leatherman rated only a beach on the Hawaiian island of Maui and a state park in Florida as better than Ocracoke.

Beaches in New York, Massachusetts and California also made the list.

Leatherman is nicknamed "Dr. Beach." He looks at 50 criteria in his survey, which he created in 1991.

THE CAMPGROUND IS ON THE LEFT

obxbiker - July 28, 2006 03:13 PM (GMT)
'Just us and the birds and the sea and the sky'

By Harper Barnes
SPECIAL TO THE POST-DISPATCH, St. Louis MO.
08/06/2006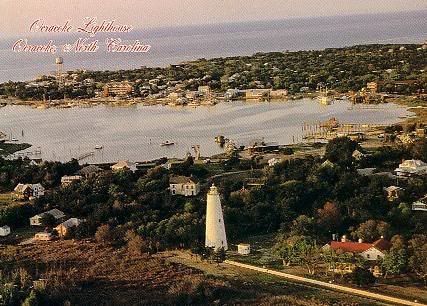 The village of Ocracoke centers on a natural harbor called Silver Lake.
(Harper Barnes/P-D)

OCRACOKE ISLAND, N.C. - Here we are, at the end of the road, perched on this 16-mile-long sliver of sand 23 miles off the coast of North Carolina with nothing but time on our hands. So we sit on the front porch in the Adirondack chairs, or lie on the queen-sized Nags Head hammock, watching the egrets and ibises stab mullet in shallow Pamlico Sound, and listening to the water lap at the rocks and sea walls.

Occasionally, a boat will pass by. More often than not, it's a sea kayak, paddles soundlessly windmilling, or a windsurfer, although occasionally a two-rider jet ski the size of two conjoined Harleys will scream by. Bummer.

But once the racket has faded, and the concentric waves slapping the wall beneath the "No Wake Zone" sign have died down, it's just us and the birds and the sea and the sky and the wind, which creates a faint burping sound when it changes directions and puffs out the porch screens. We could sit here for hours, mesmerized by nothing in particular, feeling mellow, listening to the screens burp. And we do.

There are no miniature golf courses or go-cart tracks or shopping malls or movie theaters on Ocracoke Island, no franchise fast-food places and none of the other commercial establishments and garish attractions that have swarmed over some parts of the Outer Banks. Advertisement

The Banks, a slim 175-mile strip of peninsula and barrier islands, start in Virginia and essentially end at Ocracoke. The next island to the south, Portsmouth, is uninhabited National Seashore with no ferry service from Ocracoke, although day trips are available to its ghost fishing village.

But take a short ferry ride to the island to the north, Hatteras, and drive 60 or 70 miles up busy Highway 12 and you are in the heart of urban sprawl, with malls and condominiums squeezing out the cottages in the area of Nags Head and Kitty Hawk. These boomtowns were quiet seaside resorts in the memory of many North Carolinians - including the author of this piece.

Protected seashore

But Ocracoke is like a trip to the past. Most of the island - about 85 percent of it - is National Seashore, with no commercial or residential development. The 800 year-round residents and the several thousand overnight summer visitors are housed in cottages and hotel and motel rooms and a few condominiums in the village of Ocracoke that centers on the natural harbor called Silver Lake at the southern end of the narrow island. The rest of the island, more than 13 miles of it, has unoccupied ocean beach on one side, and marshland, rich with bird life, and sound on the other.

Along Highway 12, which runs up the center of the island - at times, the land narrows to well under a mile in width, and you can see water on both sides of you - there are several designated parking lots for beaches, including one just north of the village that has a lifeguard. But you can pull over and park on the shoulder pretty much any place that's firm enough to support a car (look for sand-holding vegetation unless you have four-wheel-drive) and walk over the dunes to the ocean. On a two-week visit in mid-June, high season, we went to a different spot along the beach almost every afternoon around cocktail hour and sometimes we were the only people visible in either direction.

"Ocracoke is just a wonderful place to sit and read and go to the beach," said Dr. Marshall Poger, a Webster Groves physician who has been visiting the island since 1969, when he and his first wife honeymooned there. "The kayaking is great, and so is the bicycling. It's Nantucket without the elitism."

And, he might have added, without anything approaching the crowds that now descend on Nantucket, which becomes a seriously crowded, oppressively fashionable island outpost of New York and Boston in summer these days. Poger was comparing Ocracoke favorably - and accurately, I would say - to the much more laid back Nantucket of the 1960s and 1970s.

Simple pleasures

There's not a lot of beach-resort stuff to do on Ocracoke, and the only boardwalks lead through dunes to beaches. But it's a little bit of heaven if you like to do what there is to do - sit on the porch looking at boats and birds, stroll or swim or surf or loaf on deserted beaches of soft sand, cruise around the island on sea kayaks and through it on bicycles, fish in the surf and eat local seafood, caught or bought.

We spent two summer weeks on the island and, although the people who rented us the cottage had thoughtfully left Clue on the bookshelf, we were never tempted to call on Col. Mustard and Miss Scarlet to help pass the time.

Ocracoke "is a place for simple pleasures," says Philip Howard, whose family has been on Ocracoke since the middle of the 18th century, when one of his ancestors bought the whole island for 105 British pounds. That ancestor, William Howard, may well have been the same William Howard who, several decades earlier, served for a time as quartermaster to Ocracoke's most famous former resident, Blackbeard the Pirate, who was killed in a sea battle just off of Ocracoke in 1718.

Philip Howard is a storyteller and local historian and also owns a fine shop called Village Craftsmen (1-252-928-5541; www.villagecraftsmen.com) on a shaded sandy lane called Howard Street. He lives nearby, close to the family cemetery where two and a half centuries of his ancestors are buried, and where he expects to lie someday, beneath the live oaks and loblolly pines.

Howard is also an artist, and we bought one of his pieces, a lovely little signed watercolor print of an egret wading near a lighthouse. It cost us $5. I don't think you can buy a postcard on Nantucket for that.

The shop also features very tasteful and, in some cases, elegant pottery and dinnerware, handmade wooden-handled kitchen utensils, graceful wood sculpture and a large selection of handmade wooden puzzle boxes.

The Village Craftsmen is just a block or so off of the relatively busy main street of Ocracoke, Highway 12, as it skirts the Silver Lake harbor. A visit offers an opportunity to wander through the old part of the village. Along the docks are a scattering of shops and restaurants. Inland are dozens of simple, sturdy, sometimes eccentric wooden houses, some of them built a century or more ago from planks salvaged from the many shipwrecks caused by the shifting sands and powerful storms of the Outer Banks.

In a brief history of the island, Philip Howard says that more than 500 ships have gone down in the nearby waters, known as "the graveyard of the Atlantic." One of them, a British warship that was torpedoed off Ocracoke in 1942, is commemorated in the village at the British Cemetery, where the bodies of four sailors from the ship are buried.

What crowd?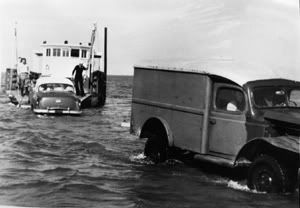 Ocracoke remained relatively isolated until the 1950s, when regular ferry service to Hatteras Island to the north was launched. Ferries now make the 40-minute trip to and from Hatteras Island every half hour in the summer, and there are additional ferries directly to the mainland at longer intervals.

In recent years, as the village has grown within its strict boundaries, and more people have begun coming over for the weekend or just the day, longtime residents and visitors have begun to complain that the island is getting crowded. Last year, the New York Times wrote in its travel section that fall was the time to visit Ocracoke, because it was "too crowded in the summer." By all reports, fall is a wonderful time to visit the island, but we decided that reports of summer overcrowding are seriously overblown.

It is true that on a midsummer weekend, relatively narrow Highway 12 within the village of Ocracoke can be, for the few minutes it takes to get anywhere in town, a sometimes slightly scary slalom course of cars, pedestrians and bicyclists, many weaving along on unfamiliar rental bikes. The visitor quickly learns that it's wise to drive slowly and ride and walk cautiously along the three miles or so of the highway devoted to commerce. But the traffic thins out during the week, and once you are outside of the village limits there is seldom much traffic.

Webster Groves' Poger, who has been coming to the island for almost 40 years, says Ocracoke has changed over the years, but adds emphatically, "It's not crowded.

"It was totally lazy when I first came, and it's still pretty lazy. It's still a place in progress."

If you go

Getting there

The simplest way to get to Ocracoke is to fly into Norfolk, Va. (American Airlines has direct flights), rent a car and drive down the Outer Banks. It takes about three hours to drive the 160 miles to the southern end of Hatteras Island, where you catch the free ferry to Ocracoke. There's one every half hour for most of the day, and the ride takes about 40 minutes. There also are ferries from the mainland that leave less frequently and take much longer. Ferry schedules are available from the North Carolina Department of Transportation, www.ncdot.org.

Staying there

Ocracoke Island Realty (1-252-928-6261, www.ocracokeislandrealty.com) is the largest rental company on the island, and we were happy with their service. Summer rentals on the water - basically that means along Pamlico Sound in the village, since there are very few houses on the ocean side - start at around $1,500 a week, with small inland cottages starting at about half that (remember, you are never very far away from water and you're going to have to drive to the ocean beaches anyway). There are about two dozen hotels, motels, inns and B&Bs. You can get a nice room for about $100 to $150 a night. Visit www.OcracokeGuide.com.

The National Park Service maintains a campground on the ocean side of Highway 12 a few miles from the village. Sites are $20 a night. Reservations are recommended: 1-800-365-2267 or reservations.nps.gov.

Ocracoke is, of course, vulnerable to hurricanes, and periodically suffers wind and water damage, although it has not sustained a direct hit for many years. According to Philip Howard, no one has ever been killed on Ocracoke by a hurricane. But hurricane season has been particularly busy in recent years, and visitors have been evacuated for brief periods every year for the past three. Cottage rental agencies offer vacation insurance that will reimburse you for all or a great part of your expenses in case of hurricane evacuations and other unforeseen events.

Eating there

There are some very good restaurants on the island. The best that we visited was the Back Porch (110 Back Road, 1-252-928-6401), with most of the tables on two large screened-in porches a block or so off the main drag. The crab cakes, with just enough filler to keep them from collapsing, and the crab beignets were particularly delicious. The restaurant does not accept reservations, which seems to be common on Ocracoke.

We also liked the fresh fish at the Cafe Atlantic (1-252-928-4861) on Highway 12 at the northern edge of the village and the soft-shell-crab sandwiches at the Jolly Roger (1-252-928-3703) outdoors by the harbor. The memorably rich chocolate chess pie at the Flying Melon (1-252-928-2533) on Highway 12 near the East Carolina Bank teeters on the edge of excess, but, as someone once said, you will never know how far you can go until you go too far.

Bicycles can be rented at several shops along Highway 12 or arranged when you are booking rooms or cottages; some hotels supply bikes free to guests. Kayaks and surfboards by the hour, day or week as well as group kayak tours are available at Ride the Wind Surf and Kayak on Highway 12 at the harbor (1-252-928-6311, www.surfocracoke.com). Windsurfing, jet skiing, excursions to Portsmouth Island and fishing trips with several dozen anglers aboard are also available at the commercial docks, which occupy about three blocks along the harbor. Check the day before you want to go to make sure services will be available.

Fishing on Ocracoke

Surf fishing is popular on Ocracoke, and the best fishing appears to be at either end of the island, where ocean and sound currents mingle. Over a very active span of about 20 minutes at the north end one afternoon, about an hour before low tide, I caught several decent-sized fish, including a 5-pound red drum, on light spinning tackle. But I struck out most days there and at other spots along the beach with both a spinning rod and a fly rod. I also tried fly-fishing in the sound from a rented sea kayak, with little success. Strong winds make fly-casting difficult.

I had a lot better luck with a boat and a guide. About a dozen charter boats operate out of Silver Lake harbor. Prices range from $250 to $350 for a half day "in-shore" - in Pamlico Sound - to $800 to $1,000 for a day of deep-sea fishing in the Gulf Stream. Charter boats are listed at www.OcracokeGuide.com.

I went out one morning with Capt. John Ferrara (www.ocracokeisland.com/fish_tale.htm), whose 24-foot skiff is equipped with sonar for spotting fish. We caught half a dozen large red drum and kept the two largest, which weighed 6 or 7 pounds apiece and each provided two meals for two people. We also caught some sea trout and bluefish. I highly recommend Ferrara: 1-252-921-0224, or e-mail ocrafish@yahoo.com.

Two large tackle stores, O'Neal's Dockside and Tradewinds, are near the north end of the village on the main highway. They are generally well-equipped, but fly fishers should bring their own gear.
obxbiker - August 9, 2006 04:09 PM (GMT)
Sunbathers welcome — but please wear bathing suits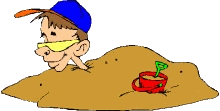 OCRACOKE ISLAND — Ocracoke is a perennial favorite among beach lovers who want to get away from it all.

And it isn't what they're wearing but rather what they're not wearing that is turning heads along some sections of the island's beaches this summer.

Nude sunbathers are hardly new to Ocracoke. In the late 1970s, the island found itself the subject of headlines across the nation when The Associated Press reported on the battles between the National Park Service and visitors who shunned even the briefest of bathing suits. Rumors had park rangers hiding among sand dunes, waiting and watching for someone to drop his or her clothes on the beach and wade into the warm waters of the Atlantic Ocean. Some tourists claimed their idea of paradise was being turned into something just this side of purgatory.

Eventually things cooled down and an uneasy, and unofficial, truce was called. It helped, some said, that budget cuts reduced park staff and the remaining rangers had more pressing duties than playing hide-and-seek among the sea oats.

As long as they were discrete and respectful of others' sensibilities, nudists were pretty much left alone.



Last year, the N.C. General Assembly amended the indecent-exposure law. Although there is no federal law addressing public nudity on Cape Hatteras National Seashore, the National Park Service does enforce the state statute.

Up until last year, a male ranger could not cite a male nudist unless a female was present or within viewing distance, and vice versa, according to Kenny Ballance, district ranger for Ocracoke Island.

The amended statute not only removed the opposite-sex provision, it also provided greater penalties against sun worshippers exposing themselves to children under the age of 16.

That latter section states, in part, that "any person at least 18 years of age who shall willfully expose the private parts of his or her person in any public place in the presence of any other person less than 16 years of age for the purpose of arousing or gratifying sexual desire shall be guilty of a Class H felony."

Anyone found guilty also would be required to register as a sex offender, the statute stipulates.

Some parents who see nude sunbathing as natural and a family activity acknowledge they are worried about the changes in the law.

"I think there's a big difference in skinny dipping and being a sexual predator," said Neil (not his real name), a Virginia resident who frequently visits Ocracoke with his family and a group of self-described naturalist friends.

"Some rangers are enforcing state law that has been taken out of context," he continued. "We're on the beach. … We're not in Wal-Mart."

Neil said his young son often accompanies him to the beach, and there is no purpose of arousing or gratifying sexual desire as alluded to by the statute. But the fact that it could be determined as such is alarming, he said.

Jim (not his real name), also a Virginia resident, agreed that some park personnel are taking the law out of context.

"A ranger did come to this area over the speed limit of the beach after observing some people through binoculars and ended up writing a warning," he said. "I think the park service has better things to do than spying on people to see if they have clothes on."

Jim remarked that he first visited Ocracoke in 1969, and he has been coming back every year for the past 20 years.

"It's absolutely gorgeous. It's a wonderful place," he said. "I've met a lot of nice people here. They're very concerned about the environment, always clean up their trash, and we've even reported people for speeding and for going through the protected areas. And when we leave, we leave behind nothing but our footprints."

"We enforce when we have to enforce," Ballance said in defense of park rangers' response to the nudists. "Usually, someone calls and complains or a ranger will come up on someone during a beach patrol."

A first citation for public nudity carries the possibility of a $150 fine, according to Ballance. A second offense means a mandatory appearance in federal court in Elizabeth City.

Ballance estimated that three or four people on the island were cited for public nudity last year. So far this summer, he knows of one nudist being cited.

Judy (an alias), a North Carolina resident, believes the best solution for everyone is for the National Park Service to designate a section of Ocracoke's beaches as clothing-optional zones.

"I think it's logical for Cape Hatteras National Seashore to do what other states have already done," she said.

Part of the group of naturalists that includes Neil and Jim, Judy said she was a bit apprehensive when she first joined the group.

"But these are good, responsible, educated people. … There are business owners, doctors, nurses and professional people," she said.

"We're always going to be a minority. … Naturalists are a minority," she continued.

Judy insisted the portion of the statute that addresses being a sexual offender does not apply to her group.

"It doesn't pertain to people here on the beach," she said. "The children know the group and are comfortable with them. … We just want to remain anonymous."

Anonymity is also important to one Ocracoke business owner who talked about naturalists drawn to the island's beaches.

"It doesn't really bother me and we can use all the business we can get," said the owner, who asked not to be named. "But I wouldn't want (nude beaches) to be the big thing that attracts people to Ocracoke."

Other island residents said they are looking beyond dollars and cents.

"I understand the rights of individuals to express themselves," said the Rev. Sam Garris, pastor of Ocracoke Assembly of God Church. "However, when it comes to safeguarding the purity of our children, that is the responsibility of both parents and other adults."

"Ocracoke's beaches should be a place where families are free to enjoy themselves without fear of their children being exposed to live displays of pornography," Garris said.

That viewpoint is at odds with how naturalists said they view their lifestyle.

"Morals are very important, but we did come into this world with nothing on," said Judy.
obxbiker - August 13, 2006 05:11 PM (GMT)
Pirates, ghost towns and shipwrecks


It rises like a green tent with a domed roof, its fabric a dense weave of live oak branches. Occasionally a clear puncture admits the bright light reflecting off Pamlico Sound, but the rising foundation of sand remains invisible.
This tent of forested land was once the campsite of Blackbeard, the famous pirate.--A temporary home, as all were for pirates, it still stands after nearly 300 years, the modest dimensions of the wind-trimmed trees belying their antiquity.

Cedar, wood of canvas-and-pole tents, holds up this bluff as well, eastern red cedar facing down the offshore winds just as its counterpart western red cedar confronts the coastal climate of the Pacific.-- Centuries old, the cedars stand there with limbs that look like the arms or legs of the famous people who slept and laughed here under them.




Blackbeard, an Englishman formally named Edward Teach, relaxed under these trees in a summit of noted pirates convened in November 1718, not realizing this was his last encampment.--Known throughout the Caribbean and Southeast coasts, Teach's name circulated in government circles as well and led the governor of Virginia to send a detachment of sailors to confront him.--Just offshore, he died in a sword-and-pistol battle that killed some 20 other pirates and sailors.

Twenty-five years later, the adjacent village of Ocracoke began as a pilot town assisting ships into harbor, acquiring a lighthouse in 1823, which still stands today.--Ocracoke--Island waited until the 1950s for the brisk automobile traffic that the paving of--North Carolina Route 12 brought.

A harbor rather than beach culture developed here, owing to the ocean's location some two miles from the village, beyond walking or hearing distance.--A town beach, of sorts, with a comfort station and large lot fronts the Atlantic directly north, opening up 12 miles of splendid, desolate seashore.--At any point along those miles, visitors park by the highway, crossing the dunes among the yellow blossoms of prickly pear cactus and orange of Indian blanket flower, then in bare feet among the big cockle shells of a powder-soft beach exceeding two Assateague Island beaches in width, the waves opening up crystal-clear, always big, jade-green on bright days.

Yet only a series of reference points defines the windy emptiness of these sands.--Following the lifeguarded beach north toward the Ocracoke-Hatteras ferry terminal are the Ocracoke campground stretch, then the pony pen section where the island's wild ponies, descendants of stock abandoned by Spanish ships centuries ago,--are housed along the highway, then two small beach access parking lots -- all lots are free -- before the ferry leading to Cape Hatteras.--Unpeopled beach runs between each point.

Immediately north of the campground stretch, where the vegetation breaks from pine forest into thickets, Ocracoke keeps a secret.--An unmarked beach path, the only such people's path on the island, cuts deep against the grain of a dune to emerge on a featureless beach.--

At the surf's edge, the state shell of North Carolina, the scotch bonnet, washes up each morning.--A homespun and innocent-shaped helmet shell indeed suggesting a bonnet, they lay wasted here, some broken and others whole.--

Along this stretch of beach, 90 people died in a shipwreck and many lie buried in the dunes. Whether it represents a communal walk into history, shelling path or beach with extreme privacy, no-one offered to tell me.-- Like all of the island, it offers firm sand for jogging even at high tide, so I used it without inquiring.

I don't know why, despite its sharp furrow of heavy foot use, I only saw two people there in a week, or why one was a lady in a dress who appeared there unattached to any car and simply walked north toward the shipwreck site.

Each time we visit, we take the boat ferry from the town dock with Rudy Austin to Portsmouth Island,--a ride to a ghost town for a fare of $20. No mere outpost of wharfs and hunting lodges, Portsmouth constitutes an emptied town, an aggregation of social shells -- post office, church, homes all standing there waiting for their vanished occupants to return.

The path through the town leads to the beach of Cape Lookout National Seashore, a bright light far ahead filling the sky and breaking through the trees.--The reason and spirit of Portsmouth both stand in direct statement at the end of a trail through the loblolly pines beside the graves of two sea captains -- buried closest to the Atlantic, watching over the fragile village.

Nor does the sense of directness here dissipate upon returning to the cottage, provided it stands along the sandy path known as Howard Street, 300 feet from the main road through town and not many more from the harbor, where the ferry whistle sounds from the docks and moored boats. Live oak branches reach across the lawns and road like outstretched arms, ancient red cedars standing like gnarled statuary.-- After a rain, the bayberry shrubs filling up the spaces between the ancestral homes breathe a sweet fragrance. In renting with Ocracoke Realty, we found a cottage owned by one of the venerable Howard clan, large among the village's 800 residents.--They have occupied the island for well over a century, surrounded by the peace that living miles out in Pamlico Sound brings.--

--In the evenings, the walk from the cottage leads--down Howard Street to the harbor and its restaurants and shops, where for our part, we had a memorable crab cake lunch and flounder dinner at the Pelican Restaurant as tourists walked or biked fresh from the shops.--More craft and clothes stores accompany the full-service gas-grocery store at the head of town toward a church and its regular sound of bells.

--Ocracoke has a history of threats, however.--Looming from a castle-like building across the village from Howard Street, a real estate office dominates the lesser and humbler shops, jeopardizing the historic positioning of people within their environment here, globalizing the island economy and bringing the need for rules and regulations.--Outsized beach houses, SUVs of summer places, appear occasionally near the lighthouse among the old residences and, at one point, circled around the waterfront toward the cultural core of the island, Blackbeard's campsite.

--In the spring of 2006, the North Carolina Coastal Land Trust dedicated a 34-acre parcel containing the campsite as conservation land off-limits to builders.-- In the same year came the announcement of 91 adjacent acres placed in public hands--
-- 7 percent of the village acreage captured in a defiant blow as counter to capitalism as Blackbeard was.-- For the time being, people from diverse shores rejoiced and those on Ocracoke laughed and rested under the live oaks.
obxbiker - August 24, 2006 02:03 PM (GMT)
If wild horses couldn't drag you ...


Outer Banks, N.C. — From the tourist centers of North Carolina's Outer Banks, Ocracoke Island is a long hop, a healthy skip and a bit of a jump away. But plan on it anyway.

After unloading at the ferry dock on Ocracoke Island, you'll drive another 12 miles to reach Ocracoke Village, though make a quick stop to visit the Ocracoke ponies, a small herd of wild ponies. Some people say they were brought to the island by Spanish explorers or privateers in the 16th century or were survivors of shipwrecks. Or maybe they were left in 1584 by Sir Walter Raleigh and his party when they ran aground on Ocracoke en route to Roanoke Island. Nobody knows for sure. At any rate, there they are, about 30 wild ponies, protected from cars and cared for in a 160-acre enclosure just off N.C. 12.



Historic Ocracoke Village, with its shops and museum, wraps around pretty little Silver Lake Harbor.

David O'Neal's brogue is still evident at Down Point Decoy Shop.

From the highway (such as it is), you'll see dunes, beaches, grasses and little else. All of Ocracoke Island, which is 16 miles long and spittin' distance wide, is part of Cape Hatteras National Seashore, with the exception of the village. You'll know you've arrived at the village when you have to slow for vacationers strolling hand-in-hand or biking leisurely through the narrow streets.

Drive (slowly!) to the free National Park Service lot at the far edge of town. Then turn off the car and forget about it. Now that you've completed the trek, your day gets deliciously idle.

The historic village circles snug Silver Lake Harbor. Much of the bustle (such as it is) is on Silver Lake Drive/N.C. 12, along the harbor. Off the main drag on small lanes are holiday rentals, locals' homes and shops, nestled among old oaks. Also scattered throughout the village are more than 80 pretty little cemeteries.

Start at the Ocracoke Island Preservation Society and Museum located next to the National Park Service parking lot in a frame house that was home to Coast Guard Capt. David Williams, first chief of the United States Coast Guard on Ocracoke. Get to know Ocracoke by perusing the quirky collection about fishing and the sea that defines this area. Don't miss the video about the Ocracoke brogue, a distinctive and endangered roll of the tongue that some say is related to Elizabethan English, though linguists still wrestle with the origins of its fast-fading cadences. The brogue turns high tide into "hoi toide," sound into "saind" and has its own vocabulary — "mommuck," which translates to "harass or bother," or "quamish" for "queasy."

Hike next through town to Ocracoke Lighthouse, a small, plump structure owned by the National Park Service and the oldest operating lighthouse in North Carolina. The Outer Banks' perilous coastline makes this region the "Graveyard of the Atlantic" and the sea floor is littered with shipwrecks, but the little Ocracoke lighthouse, which dates from 1823, still does its part to protect sailors with a light visible 14 miles out.

The poor souls interred at the island's British Cemetery died here for other reasons, and respect must be paid during your visit. This little square of land, surrounded by a white picket fence, has been forever ceded to Great Britain. Four headstones — two identified, two unidentified — mark the graves of the four bodies recovered out of 37 British sailors who went down with the HMS Bedfordshire, which was torpedoed by a German sub in 1942, about 40 miles south of Ocracoke.

Now, official sightseeing more or less dispatched, you are free to wander aimlessly among Ocracoke Village's pretty streets and lanes, poking around in small gift shops that carry items mostly a cut above the usual tourist store.

If the Down Point Decoy Shop is open, be sure to stop in, not just to admire the shop's selection of decoys new and antique (i.e., valuable), but also to visit with genial owner David O'Neal, who comes from a long line of O'cockers. Though he spent 20 years away from the island while serving in the Coast Guard, O'Neal finally came home to nest cozily among the wooden birds in his cheerfully crowded shop. He opens it when he feels like opening, the privilege of a post-retirement business on this unhurried island. Sure, he does business on the Internet, too, "But it's not as much fun," he says with the shadow of a lingering brogue. "You can't talk to people."

The journey home is just as long, but now that you've seen the charms of Ocracoke, you'll want to stay longer next time.


Where to stay

Pirates Quay Condo Hotel; waterfront suites from $140. 252-928-3002

The Captain's Landing, 324 Highway 12; suites overlooking Silver Lake Harbor, from $200 per night (Memorial Day-Labor Day); from $150 per night (September-October). 252-928-1999; www.thecaptainslanding.com.

The Castle Bed and Breakfast on Silver Lake and Castle Courtyard Villas, P.O. Box 908, Ocracoke, NC. Breakfast is included at the B&B but not at the villas. From $170 (Memorial Day-Labor Day-); from $130 (September-October). 1-800-471-8848 or 252-928-3505; www.thecastlebb.com.

Blackbeard's Lodge, P.O. Box 298, Ocracoke, NC or 111 Back Road. Inn dates from 1936. From $85, through Labor Day; from $58 off-season (closed Dec. 1-25). 1-800-892-5314; www.blackbeardslodge.com.

The Island Inn, P.O. Box 9, Ocracoke, N.C. Rooms and villas; heated swimming pool. From $59 summer; from $49 fall and from $39 winter. 1-877-456-3466 or 252- 928-4351; www.ocracokeislandinn.com.

The most popular way to visit the Outer Banks is to rent a "cottage." Some real estate agencies:

Sandy Shores Realty, 252-928-5711, www .ocracoke-island.com.

Stan White Realty, 1-800-338-3233, www.outerbanksrentals .com.

Information

Ocracoke Civic and Business Association, 252-928-6711; www.ocracokevillage.com

Outer Banks Visitors Bureau, One Visitors Center Circle, Manteo, NC 27954; 252-473-2138 or 1-877-629-4386; www.outerbanks.org.

obxbiker - September 27, 2006 11:43 AM (GMT)
Loping back from Isabel on Ocracoke Island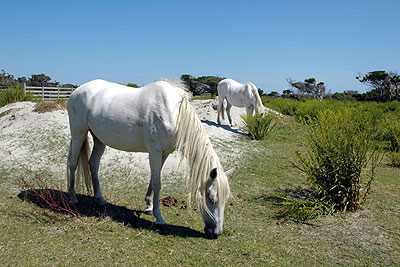 Two Banker horses graze at the rebuilt pony pen on Ocracoke Island. A new eight-stall stable and fences were finished in May.


OCRACOKE ISLAND - Bonita and Winchell have hit it off very nicely, even though Winchell, with his short stature, looks like Bonita's colt.

On loan from the Shackleford Banks pony herd that roams wild in Cape Lookout National Seashore, the little stallion and his taller Ocracoke mate have been enjoying the exclusive tenancy of the new eight-stall stable at the Ocracoke pony pen.

It's been three years since ocean surge and tide during Hurricane Isabel ripped through the National Park Service's "Wild Bankers of Ocracoke" site across from the beach, destroying miles of fences, flooding a barn and knocking down a wall that killed a gelding named Fuego.

"We probably had to replace or repair about 80 percent of the fence," Bill Caswell, Cape Hatteras National Seashore park ranger, said as he stood on a knoll overlooking the rolling dunes, sparsely vegetated with American beach grass, myrtle bushes, yaupon and cedar trees.

"All the front fences there," he said, pointing toward the beach, "all of it was gone."

The day after the storm, park staff found the ponies gathered together on the knoll, which at about 18 feet above sea level is the high spot within the enclosures.

A few had minor cuts and scrapes, but besides looking a bit shaken, they appeared fine.

"They all seemed pretty happy to see people," Caswell said.

Fuego had sought shelter in the lee behind a wall of a small barn, but it collapsed onto him and apparently broke his neck. The public viewing stand off the highway had been floated back into the pasture, and a barn was raised and taken away by the force of the water.

For now, Caswell said, the $350,000 stable, completed at the end of May, will be used for the breeding program until a new hay barn is built in front of the stable and the fences can be reconfigured to allow more horses into the stable. Two small stables that are being used now will then be removed.

Before Isabel, the Ocracoke ponies - believed by some to be descendants of wild mustangs shipwrecked on the Outer Banks - roamed within 180 acres of fenced-in land. Now it's more like 100 acres. When it is determined that the storm-damaged area has recovered, Caswell said, more pasture will be added on the northeast end of the fence.

The herd of 20 horses, not including the two stallions on loan from the Shackleford herd, ranges in age from 2 1/2 years to 30 years. Colored bay, gray or paint, the Ocracoke ponies - fed twice daily with grain and hay - are bigger than their wild cousins from the Shackleford Banks who fend for themselves.

Winchell, for instance, is about five hands shorter than Bonita. A hand is four inches.

"The most interesting thing about what they call Banker ponies is how genetically they resemble each other," Caswell said.

Once free-roaming and numbering in the hundreds, the Ocracoke ponies now eat about $25,000 a year in food because there is not enough edible pasture to sustain them. The ponies also are visited annually by a veterinarian for routine health care and have their hooves trimmed by a farrier twice a year.

"They're in very good condition," said Stephen Samson, a veterinarian at Coastal Animal Hospital in Kitty Hawk who treats the ponies. "They're cared for very well."

Fences are arranged in sections to keep some ponies visible to visitors. Others are separated by age. The occasional stallions - permanent residents are gelded - are kept in their own enclosure, sometimes not too happily.

A 10-year-old mare named "Oops" is the product of one persistent stallion who managed to escape one day from his corral and find his mate among the herd.

The ponies are not ridden, but their wildness is more their heritage than their temperament. With names like Billy, Boris, Lyndessa and Mr. Bob, the oldest pony, it's hard not to see them mostly as charming public pets.

"They're pretty friendly," Caswell said, as Spirit, a 5-year-old paint mare, came over to the fence for a nose rub, "as long as they don't think someone's getting food and they're not."

obxbiker - September 28, 2006 07:59 AM (GMT)
Watermen's group battling to keep Ocracoke's last fish house afloat

© September 28, 2006

OCRACOKE ISLAND - With their first successful summer behind them, operators of the Ocracoke Seafood Co. have set their sights on drumming up support to keep the island's sole remaining fish house open in the future.

"Right now," said Robin Payne, organizer of the Ocracoke Working Watermen's Association, the group is "really heavy into teaching awareness of what we do."

The group's first fish fry fundraiser will be at 3 p.m. Saturday at the fish house, with the watermen themselves cooking up their catch. The event coincides with the Art Walk event in the village that features artists promoting their craft at their studios or galleries.

All the fish fry proceeds will go toward the watermen's association, which must raise $447,000 by June 1 to secure ownership of the fish house. That figure includes costs for a new truck and some renovations and upgrades. Payne said that the group's 501-C status is expected to be approved within 60 days.

Last winter, the fish house escaped what island watermen feared was its demise when the owner agreed to a proposal to let the group take a year to pay off the property. Without the fish house, commercial watermen had to go much fa rther to off-load their catch and had no local market to sell their fresh-caught fish.

A number of island watermen got so discouraged, they sold their gear and their boats and got out of the business altogether.

Payne said that an operating fish house is central to a functioning working waterfront. The loss of waterfront has become a critical issue in North Carolina, which has appointed a study committee to address the problem. Ocracoke waterman Hardy Plyer, a member of the W orking W atermen's A ssociation, is a member of the panel.

Since re opening June 1, the 28 part- and full-time watermen, all members of the association, have become self-sufficient, Payne said.

"They're making a living," she said. "They pay the bills from whatever profit they're making. We've got trucks that go off-island four times a week. They deliver to the wholesaler."

Joey Daniels, owner of Wanchese Fish Co., has loaned a truck to the fish house to help out and "because he likes Ocracoke flounder, " Payne said.

The retail market at the front of the fish house also has been thriving.

"It has done a great summer season," Payne said. "We did not anticipate that it would do that well."

The group is reaching out to school children through the youth center to teach them about fishing as a livelihood. The North Carolina Center for the Advancement of Teaching is holding a seminar in mid-October at Ocracoke on fishing and working waterfronts on the island.

As the water starts to cool, Payne said, the watermen are gearing up for the wholesale season, when each boat can haul in as much as 2,000 pounds a day of flounder, roe mullets, speckled trout, red drum, black drum, bluefish or Spanish mackerel.

"They're going to be bringing in boatloads of fish," she said. "You're knee-deep in fish."


Murs - September 28, 2006 02:07 PM (GMT)
I hope they are able to save it. It would be a shame if it shut down :(
obxbiker - September 28, 2006 02:21 PM (GMT)
QUOTE (Murs @ Sep 28 2006, 10:07 AM)
I hope they are able to save it. It would be a shame if it shut down :(

It's something that comes up every year or two...
Use to be dozens of processing plants....one issue leds into another issue as the outlets then need to be kept open. A whole different "can of worms"...
obxbiker - October 30, 2006 01:57 PM (GMT)
Har, me hearties! Excavating Blackbeard's ship

- Nearly three centuries ago, the notorious pirate Blackbeard ran aground in his ship, the Queen Anne's Revenge, off what is now a North Carolina beach town.

This month, a crew of 13 heads out to sea each day, hoping for clear-enough weather to dive the 20 to 25 feet (6 to 7.5 metres) to the ocean bottom to excavate what they believe is Blackbeard's ship.

The team has found cannons, a bell, lead shot of all sizes, gold dust, pewter cups and medical devices, like a urethral syringe used to treat syphilis with mercury.

"A saying at the time was 'a night with Venus and a month with mercury.' And mercury doesn't even cure you," lead archeologist Chris Southerly said in an interview.

In past years, Southerly and his team did spot digs to map the debris field measuring 150 feet by 70 feet (45 metres by 20 metres).

This year, divers are excavating the southern one-third of the site. They use PVC and aluminium pipe to measure five-foot (1.5 metre) squares and meticulously record where objects are found.

But, working 1 1/4 mile (2 km) off North Carolina, there are problems that landlubber archaeologists don't encounter.

"Once we excavate down 2, 3, 4 feet (0.6 to 1.2 metres), because of the currents and sand, it falls back in," said Southerly.

This classic archaeology focuses on one of the most unusual men of an unusual era -- Blackbeard.

His real name, which may have been Edward Teach or Thatch, is the subject of speculation, as are his birthplace and birth date. He knew how to navigate, but there is only one sample of what could be his writing -- a ship's log entry.

"We don't know how tall (he was), but he seems to be taller than average for that period. One account calls him a 'spare' man. He certainly had charisma," says Lindley Butler, a retired history professor of Rockingham Community College, in Wentworth, North Carolina. Butler specialises in North Carolina history.

There were accounts that he tied slow-burning cannon fuses to his long black hair before going into battle.

18TH CENTURY PSYCHO OPS

"With the fuses in his hair and heavily armed, he's a frightening person," says Butler, who added that pirates preferred to take ships without a shot. "There were some psychopathic pirates out there, but Blackbeard was not one of them. We have no evidence that Blackbeard ever murdered anyone or ever tortured anyone.

Blackbeard at first fought with the British as a privateer, a kind of legal pirate, attacking Spanish and French ships in the War of the Spanish Succession in the early 18th century.

With the war's end, Blackbeard and thousands of other unemployed sailors turned to piracy. His troop captured a French slaver called La Concorde in a brief skirmish in November 1717, says Butler.

He renamed the ship the Queen Anne's Revenge, which was probably 90 to 105 feet (27 by 32 metres) long. The band also had three smaller sloops, with about 400 men under arms.

In May 1718, Blackbeard's pirates sailed into the port of Charleston, South Carolina and, in a stunningly audacious move, blockaded the harbour. The ransom demanded, and paid, was a chest of medicine worth 400 pounds, says Butler.

"In a way, I guess it did sort of terrorise that port. Blackbeard at that time had a fleet of four vessels, with 60 cannons. This was the most powerful fleet in this hemisphere at this time," says Butler.

Shortly after terrorising Charlestown, Blackbeard lost his lead ship, running the Queen Anne's Revenge aground on one of the many shifting sandbars off North Carolina, says Butler.

After the wreck the governor granted him a royal pardon, and Blackbeard went into at least semi-retirement in June 1718, spending chunks of time in

Ocracoke,

a barrier island off North Carolina.

But Virginia Governor Alexander Spotswood was apparently unconvinced Blackbeard had actually given up pirating.

"Gov. Spotswood was having nightmares about this pirate sitting down here in North Carolina," says Butler.

He sent troops to find Blackbeard, and the two sides battled it out on November 21, 1718 on tiny Ocracoke.

Blackbeard was killed in ferocious fighting. Casualty figures vary but at least eight other pirates were killed, and eight British seamen. Blackbeard's head was cut off and stuck on a stake. His body was tossed overboard.

ONE YEAR TO BECOME AN ICON

Blackbeard was probably in his 30s when he was killed, and had been a pirate captain for just about a year. During that time, his force had taken a town hostage and captured 40 ships.

"It's astonishing that he's had such an iconic role in such short a time. It's like a comet almost," says Butler.

With so little known about Blackbeard from primary sources, perhaps the best chance to get to know Blackbeard is through the wreck of the ship believed to be the Queen Anne's Revenge.


obxbiker - March 6, 2007 08:13 AM (GMT)

"Smells like country……tastes like Rock n' Roll"

Conceived and delivered on Ocracoke Island in 2002, the Dune Dogs rural blend of Hard Core Country (think Johnny Cash and Billy Joe Shaver not that "cookie cutter" bullshit on today's radio), Swamp Boogie (think Tony Joe White and SCOTS), and Southern Rock n' Roll (think Ronnie Van Zant, Tom Petty and The Bottle Rockets) prove that a

lack of talent and professionalism

are not necessarily impediments to good vibes and the "humble endings" of a DUNE DOG experience.

There's something for ever'body in the Dune Dog's CAROLINA COUNTRY…

"Hillbillies, hoi toiders…. rednecks and frat-boys,

Farmer's daughter's, debutants… 'grilled cheese' and road whores.

CAROLINA COUNTRY…..come on and ride with me."

MUSIC

Ain't No Train To Ocracoke *

Carolina Country *

Swampbait

MORE "MUSIC"







obxbiker - April 16, 2007 12:29 AM (GMT)
Island tries to save last fish house

OCRACOKE -village enclave of about 800 full-time residents

Blackbeard is a colorful Ocracoke legend, but the dwindling crew of commercial fishermen who still ply the waters off this Outer Banks village don't want to become another.

They're being pushed into the past by government regulations, pollution, declining harvests and rising costs. Now they face their biggest challenge -- saving the place where they bring their catch, the last fish house in Ocracoke.

The fish house is operated by a salty mix of crab potters, pound netters and charter boat operators. They formed a communal company last year after the last commercial fish house operator pulled out in 2005. But the group must raise $325,000 by June to continue the lease.

"It's not just good for the fishermen, it's good for Ocracoke, for the tourists. If we lose this one, that's it," said Ronnie O'Neal, an Ocracoke native who was unloading blue crabs on the dock last week.

In addition to the $325,000 for the lease, the group is seeking $175,000 for renovations and equipment and about $36,000 for other expenses.

Supporters have raised about $62,000 through donations, with bake sales, fish fries and oyster roasts.

The state legislature is reviewing legislation that would appropriate $500,000 to renovate and expand the fish house.

O'Neal, 55, said there were at least 50 fishermen working crab pots or traps in the waters around Ocracoke when he started in the early 1970s. Now there are five or six.

Fish houses, where catches are unloaded, cleaned or iced down and then distributed for sale, are disappearing along the coast as waterfront property is sold and converted to restaurants and residential property. An N.C. Sea Grant study in 2006 found that 39 fish houses closed in the previous six years -- a loss of 33 percent -- and 78 were still operating.

One year to pay

When the owner of Ocracoke's last commercial fish house quit the business last year, he gave the fishermen a year to pay for a long-term lease on the facility so they could keep it alive.

The fishermen formed the Ocracoke Working Watermen's Association, which works with The Ocracoke Foundation, a community nonprofit organization. The watermen's group operates the Ocracoke Seafood Co. in the former location of South Point Seafood on Silver Lake Harbor on the south end of the island.

Additional fishermen and other nonwatermen have since joined the effort to keep the fish house and seafood company going, said Robin Payne, an Ocracoke resident who helped organize the association. She said the business eventually would be self-sustaining, but fishermen did not have the money needed to buy the lease and make needed renovations.

In many communities, the weathered docks at fish houses provided access to public waters for those who did not own waterfront property. Although Ocracoke Island is relatively remote and part of Cape Hatteras National Seashore, the village enclave of about 800 full-time residents has not escaped the development pressure and gentrification that has altered other parts of the coast. There are no oceanfront houses because the beach is part of the seashore, but condos and houses away from the water are priced at more than $600,000.

Payne and her husband, Thomas, moved to Ocracoke from Northern Virginia about four years ago after he retired from the construction business. Like many who answer phones, wait on customers and work on the dock, they are volunteers.

For fishing, tourism

Payne said she agreed to help because the fish house is important to the community. Not only does it benefit fishermen, she said, but it provides fresh seafood to restaurants and tourists.

Routine fish house chores such as sorting and packing fish and shellfish in ice are attractions to tourists who often stroll through the open doors.

"Yesterday people were lined up taking pictures," Payne said in an interview at the fish house office.

A working fish house is not fancy. Huge freezers spit out ice that is packed in cardboard boxes with fresh products or carried on boats by fishermen. A cutting room, office area and storage areas open into a common area with a concrete floor.

A bumper sticker stuck to the white wall expresses a common sentiment: "Friends don't let friends eat imported shrimp."

In the retail portion, a small area with two display cases, Patty Plyler, wife of an association member, waited on a steady stream of customers who came in for flounder, shrimp, trout and live crabs that came off O'Neal's boat that morning.

Plyler doubles as an educator, using a model of a net to show customers how a common net catches fish by leading them into a heart-shaped section that funnels them into a square portion at the end. That section, the pound, gives the net its name.

"It's fascinating," she said. "The kids want to know how it [pound net] works."

Her husband, Hardy Plyler, a commercial fisherman for 33 years, said making the public aware of the industry is a major goal of the association. He hopes it will be a model for other communities struggling to keep a working waterfront.

"We've got a future if we can fish," he said.


obxbiker - April 16, 2007 06:07 PM (GMT)
THE RIDE....
half hour ferry ride
The destination...

THE FERRY PULLING IN.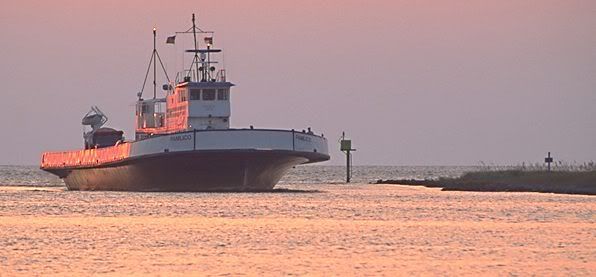 FERRY LANDING from the NORTH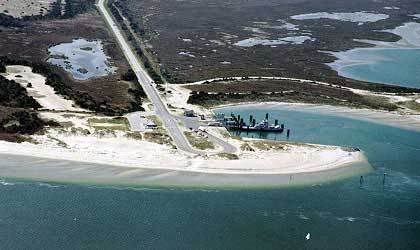 FERRY LANDING from the NORTH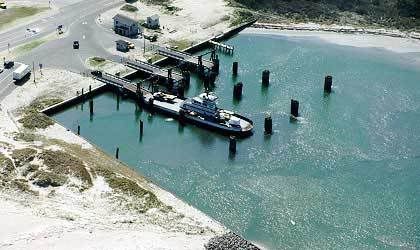 FERRY LANDING from the SOUTH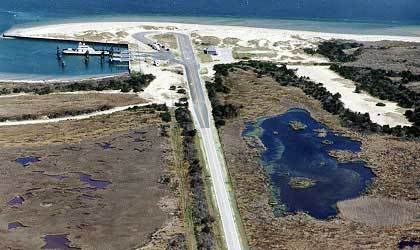 SILVER LAKE ...oppisite end of Island (30 mins.)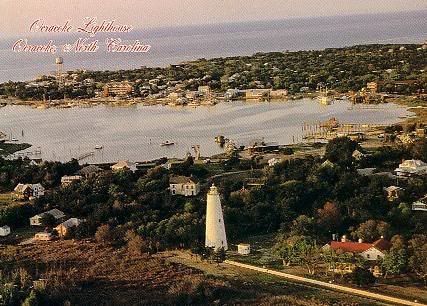 THE LIGHTHOUSE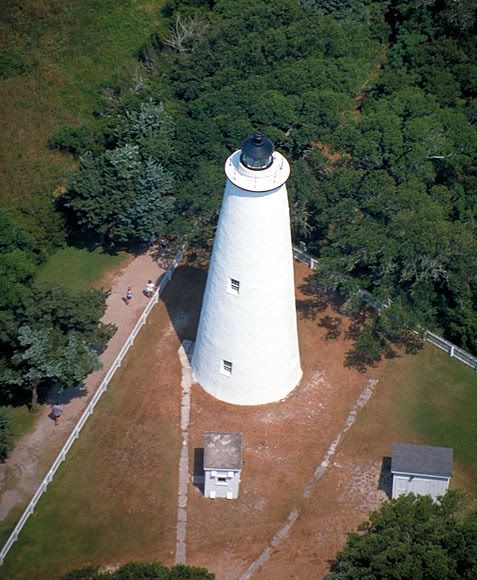 obxbiker - April 16, 2007 06:08 PM (GMT)
VIEWS OF SILVER LAKE


obxbiker - April 16, 2007 06:09 PM (GMT)
VIEWS IN "TOWN"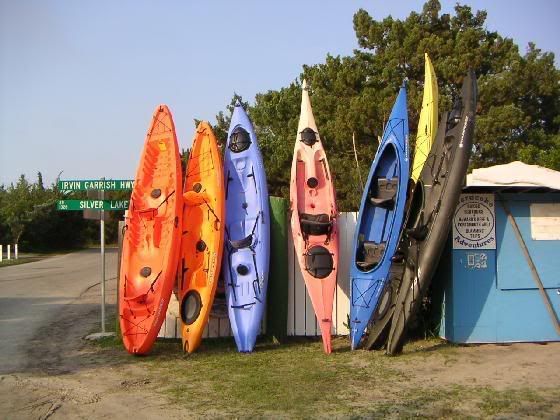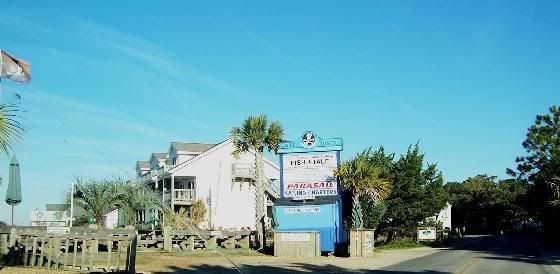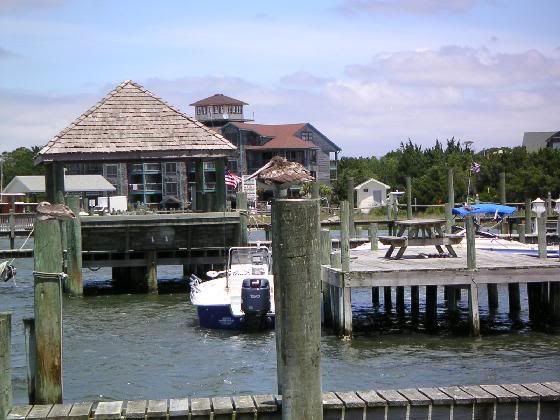 obxbiker - April 16, 2007 06:09 PM (GMT)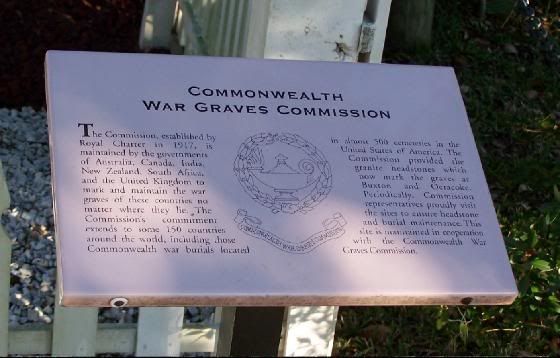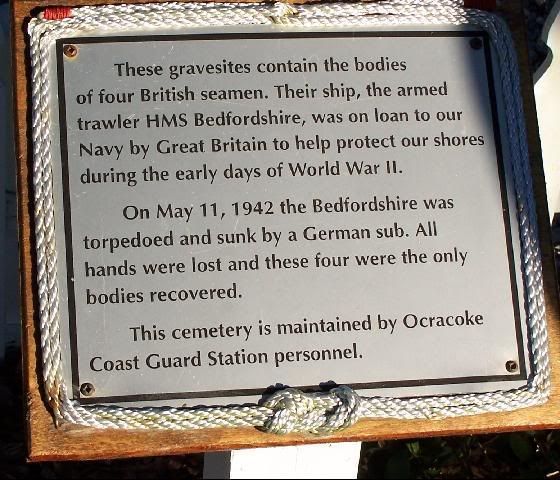 obxbiker - April 16, 2007 06:17 PM (GMT)
THE "BIG" FERRY at the other end of the island.
(two and a half hour ride to the mainland)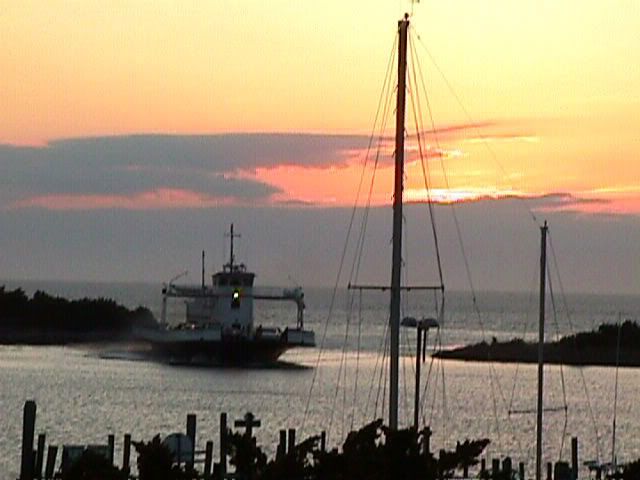 obxbiker - April 22, 2007 03:27 PM (GMT)
Island's bridge work means opening Outer Banks beach to cars




Transportation workers on the Outer Banks frequently redirect traffic when they're working on roads, but they've never before routed drivers to the beach.

After considering various scenarios, the state Department of Transportation decided that the best way to replace seven aging bridges on Ocracoke Island is to shut down its only highway for 10 weeks this winter.

That's an "extremely" different approach, said Sterling Baker, DOT division maintenance engineer.

"It's the first time that we've ever detoured the vehicles to the beach."

But with the other alternatives, traffic would have been disrupted on the highway for about 1-1/2 years. On a narrow, 16-mile-long island that teems with tourists from late spring through fall, a one-lane road between the ferry dock and the village would be impractical. Not to mention the non-stop aggravation and possible hazard such a situation would create for drivers.

About 25 people attended an informational workshop on the project last week. For the most part, Baker said, people have accepted the inconvenience.

"They've really come together as a community to get everything done," he said.

The 850 year-round residents of Ocracoke will be able to go back and forth in four-wheel-drive vehicles on about three miles of ocean shoreline adjacent to the closed portion of road.

All but about a half-mile of that is open to off-road vehicles at that time of year anyway, said National Park Service district ranger Kenny Ballance.

The bridges were put in when N.C. 12 was built in the mid-1950s, and haven't been replaced since. Baker said the road had been widened at some point to 24 feet, but the bridges remained their original width of 22 feet.

During storms, they wash out where they tie into the roadway.

"Structurally, they're sufficient," he said. "But functionally, because that's a primary route, they're obsolete."

All but one bridge will be about 20 feet longer, the other is designed to be 50 feet longer. Each will be 36 feet wide inside the rails.

The project, designed to last 75 to 100 years, is estimated to cost $7 million. But Baker said that because of the volatile weather and the remote location - the island is accessible only by ferry, boat or plane - the final price tag "is that big Ocracoke guess factor."

The road will be closed Jan. 2 and re open March 15. Minor work will continue for about a month after the road opens.

When the bridges first open, Baker said final paving will not be completed, nor bicycle rails installed.

Between now and June, Baker said, the department will do four test piles to determine how many blows it will take to drive a pile.

Starting in November, equipment and supplies will be taken over by barge or ferry and stockpiled by the Hatteras-Ocracoke ferry dock as well as next to the pony pens and at the Park Service campground.

The community has been meeting regularly to establish a plan to cope with the road closure, Ballance said. The Park Service will be working closely with the DOT and police and emergency personnel to help when needed.

For instance, rangers will help get mail and medication to the village residents.

Additional ferries will run between Hatteras and Ocracoke and Swan Quarter and Ocracoke, and Ballance said the community will work cooperatively to carry on its regular business.



"Ocracoke is absolutely not going to shut down,"

he said.